THE ADDERLEY SCHOOL for the Performing Arts was founded in 1993 in Pacific Palisades, California welcoming children from across the United States and the globe and teaching them how to stand confidently in the world. As a result of THE ADDERLEY SCHOOL's national and international success, it quickly expanded to Santa Barbara, Ca. and now most recently to Austin, TX. Since its inception, thousands of toddlers, kids and teenagers have found a passion for musical theatre and a belief in their own abilities.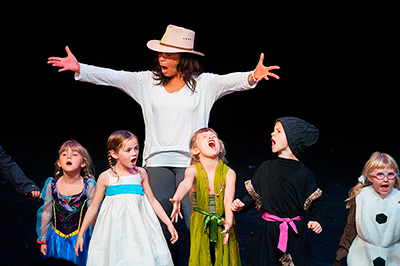 "If I were a color, I'd be fire engine red!"
Broadway and TV Veteran, JANET ADDERLEY, created this amazing place of adventure, learning, and joy in an attempt to teach her shy, young daughter how to be heard. "If I were a color, I'd be fire engine red," says Adderley, "If my daughter were a color, she'd be lavender."
"I created THE ADDERLEY SCHOOL FOR THE PERFORMING ARTS to help my lavender girl find her red voice." The result can be seen in Alana Adderley, who for years has ignited a fire of passion and pride in countless ADDERLEY students.
"If my daughter were a color, she'd be lavender. I created THE ADDERLEY SCHOOL to help my lavender girl find her red voice."
Graduates of THE ADDERLEY SCHOOL FOR THE PERFORMING ARTS have won Tonys, starred in blockbuster movies, and gone on to star as "Young Cosette" on Broadway and "Winthrop" in The Music Man opposite Eric McCormack and Kristin Chenoweth at The Hollywood Bowl. They have performed for Hillary Clinton, Oprah Winfrey and have toured with Andrea Bocelli, including a triumphant appearance at the famed Madison Square Gardens. Guest teachers and performers have included Broadway veterans like tony-award winning Marissa Jaret Winokur and Kristin Chenoweth, as well as industry greats like David Foster and Marc Shaiman.
Alana Adderley igniting passion and purpose in her students
Janet, a Yale University graduate, has assembled an incredible staff of musical directors, choreographers, voice coaches and accompanists in all 3 ADDERLEY SCHOOL locations.
THE ADDERLEY SCHOOL does much more than teach children how to sing, act and dance. Instructors instill joy and confidence in each child one by one through intimate mentor-ship. Janet adds:
"When a child does a good job, I am thrilled and blessed that the universe has given me great purpose in life, something that fills me with so much pride and joy. Not everybody gets that."
In 2018, Janet's dream of becoming a non-profit and opening her doors to underserved communities became a reality in Austin.
"I have spent the lion's share of my career impacting the lives of countless fortunate children who could afford to pay tuition," said Adderley. "As a woman of color from modest beginnings, who grew up in Texas in the late '60s at the dawn of integration, I was also one of the 'fortunate ones.' I was blessed with brilliant, dedicated parents who supported me and taught me by example to dream big dreams. They made great sacrifices to expose me to everything - theater, ballet, music and art. Sadly, we are not all so lucky. I am determined to be a role model for those less fortunate children among us of all races who don't have the opportunities and support in life that I had. Musical theater changed my life. Becoming a nonprofit will allow THE ADDERLEY SCHOOL to give all children in Austin the opportunity to benefit from our life changing musical theater school program."
THE ADDERLEY SCHOOL BOARD OF DIRECTORS
Janet Adderley, President
Heather Wagner Reed, Vice President
Adrian Resendez ESQ, Secretary
Beverly Dale, Member at Large
Kathy Valentine, Member at Large
Tracy LaQuey Parker, Member at Large
Cheryl Sekel, Member at Large (Parent Member)
Alana Adderley, Member at Large (School Member)